The Annual Meeting of the Sidney Central School Alumni Association Board of Directors was held January 14, 2017, with a full slate of 19 directors. The excitement of planning for the new year was heightened by meeting for the first time in the new alumni association meeting and work room, which had been moved from the Civic Center on Liberty Street to the Pearl Street School, a space acquired from Superintendent Bill Christensen.
The Oath of Office was administered to Deb Woytek Puffer, Vicki Miller Kulze, Mike Sellitti, Terry Dermody and Wayne King, who are the elected directors from the January 1, 2017 election. A complete listing of Board of Directors and SCSAA Officers and their contact information can be viewed on the SCSAA website.
Also sworn in, were two new directors to the board, who according to Doug Sheldon, "will have great insight into our operations going forward". They are Marty Reed, class of '65, a returning Board Member and Officer; and Paul Beams, class of '63, who was elected to the Wall of Fame and served several years on the Wall of Fame committee, and as SCSAA Community Relations.
Current director, Mike Sellitti, was named Vice President of Communications, a newly, created position, for the purpose of meeting the 21st century demands on communication and technology. Mike will determine the use of all media to promote SCSAA including digital (e.g. social media), print (e.g. newspapers) and broadcast (e.g. radio). He will be responsible for brand development and oversee the SCSAA website and Reflections newsletter. Mike also serves on the Executive Committee.
After a meeting of designating committee chairpersons and planning for the year 2017, board members welcomed friends and volunteers of the alumni association to an Open House to view the new room, enjoy refreshments and be present for a Ribbon Cutting Ceremony officiated by Mayor Andy Matviak and board president Doug Sheldon.
Opening comments were made by SHS graduates Greg Davie (1976) and Chuck D'Imperio (1967).
Greg explained how the rooms have changed over the years and also described some of the memorabilia (including his own) that would be permanently on display for all to enjoy here.
"Big Chuck" D'Imperio's opening marks reflected on how this was really a homecoming of sorts.
He said: "This ribbon cutting celebration is like a homecoming, to be back at Pearl Street School again. I am 67 years old, and like many classmates my age, many are retired, people from all professions, who are now looking back on life, and reassessing what we want to do in the future. But so much of life is about the beginning of life. This place, this elementary school, is like our Petrie dish. It was our place of learning. We learned to count here and read and write--we did not have Sesame Street. We learned English and History, and about ourselves, our teachers and each other -- we did not have the internet. It ALL started here. Those who went on to a life and career in the Arts sang their first songs and danced their first steps up on that old stage in the auditorium. Those that went on to excel in sports played their first games and ran their first races right here at this school. We have come full circle with the Alumni Association and our school system. Our Wall of Fame plaques hang in the halls of the high school, we are committed to giving full support to Sidney's sports programs, we are excited about hosting a wonderful annual Career Day and now this. Our very own Alumni Room at this school. Yes, it is a homecoming for many of us. And a warm and wonderful one at that. We are thrilled to be here and a part of this wonderful celebration."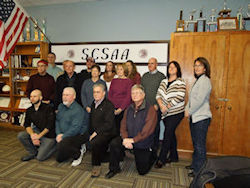 SCSAA Directors
1st Row - L-R:Michael Sellitti, Greg Davie, Douglas Sheldon, Dennis Porter

2nd Row - L-R:Paul Beams, Ray Taylor, Debbie 'Woytek' Puffer, Vicki 'Miller' Kulze

3rd Row - L-R:Sean Fogarty, Richard S. Germond, Bryan Innes, Amber 'Wilson' Fogarty,
Kerri Green, Marty Reed, Anne Mott, Teri 'D'Imperio' Schunk


Absent, Jon Jay DeTemple, Wayne King, Terry Dermody