The Hall of Fame Class of 2006 for Sidney Alumni will share a common bond of running, with none more successful as our own Karl Paranya.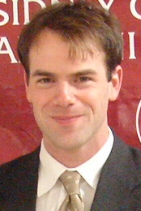 From "little old Sidney" came this sleek, shaggy-haired distance dynamo who had people from the area tuning in to see not one but TWO separate attempts at making the United States Olympic team for the 1500 meters, in 1996 and again in 2000! But that's getting a bit ahead of ourselves.
And who would have known that the boy who won a Susquenango League Modified Cross Country individual championship as a seventh grader would turn out to be the same person who would win countless national races on the collegiate and professional levels?
His scholastic accomplishments were impressive, despite the fact that Karl trained in the summer not by running but by biking. So as the school year progressed, his legs got stronger. As a junior cross country runner, Karl placed 9th in the New York State Class B Meet and added a 23rd at the NYS Federation Meet, an "all-comers" race that put the elite runners of all classifications and school types into one competition. For his last two races in the fall of 1992, Karl improved on his Class B placing (3rd) and kept consistent at the Federation race (24th).
But it was indoor and outdoor track where Karl saw his potential realized most. He twice won the Section IV 1000 meter title indoors - adding a 4th place statewide as a senior. He was also entered into the National Indoor 800 meter championship race, placing 6th among the best high school runners in the country! Outdoors, he won two Sus League and two Section IV championships in the 800 meters. Once again, the senior season was his best, as Karl took home the 800 meter crown.
Karl was also named WCDO Male Athlete of the Year for his incredible accomplishments in the 1991-93 school year. He graduated from Sidney having set school records in three indoor and three outdoor events, covering various distances from 400 to 1600 meters.
Obviously his best was yet to come.
At Haverford College near Philadelphia, Karl won the Mid-Atlantic Region Cross Country Individual Championship for three seasons -1994-96. Against the finest distance runners on the National Division III scene, he placed 11th in 1994, his sophomore season. Once again, the results were better with each passing year. Karl was 5th in 1995 and 2nd in 1996.
For his track & field resume, how about an incredible NINE National Division III titles - four at 800 meters and five at 1500 meters. In 1997, Karl was second at the prestigious USA Track & Field Meet in the 1500 meters and of course he ran in the aforementioned 1996 Olympic Trails in Atlanta. It should also be noted that Karl was the first Division III athlete to break the 4-minute mile when he clocked a 3:57.6 in 1997 on his home track.
Karl pursued a professional career as a runner following his stellar collegiate career. His sponsors were Asics and Global Athletics. Besides running internationally - Europe, Asia and Africa as well as meets in the U.S. - Karl won the 1999 Penn Relays mile, and was a member of the Global Athletics World Record Indoor 3200 meter relay team (breaking the existing mark set by a team from the former Soviet Union by nearly four seconds!) and as you already know, ran in the 2000 Olympic Trials at 1500 meters. He ran the best semifinal time of the entire field and was in the lead pack during the finals but wound up finishing 9th, still a great accomplishment for that boy from "little old Sidney". By the way his fastest mile time (3:54.83) was run May 30, 1999 in Eugene, Oregon.
Nowadays Karl Teaches at The Brearley School, a prestigious private institution. Even though his competitive running days are behind him, he still managed to run the recent New York City Marathon in well under three hours. Karl finished in the top one percent of all runners, including this year's most famous amateur entrant - Lance Armstrong.
Sidney's size may be small, but we can all take pride in the way that Karl Paranya built his foundation for running and carried us along while becoming one of the nation's top middle distance runners of his day. It is an appropriate reason to let him cross the finish line for the 2006 class of inductees to the Sidney Alumni Sports Hall of Fame.